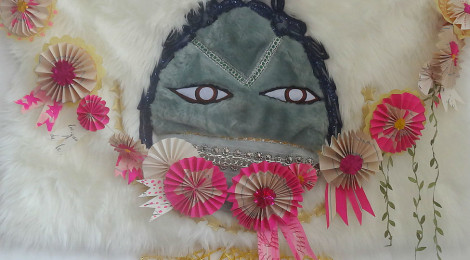 The soft sculptures, tapestries, and fashions of Jasko Begovic are made from such a variety of patterned, beaded, and embroidered materials that its pretty much impossible to tell his background- and that's precisely the point. As a Bosnian Muslim raised child forced to flee the former Yugoslavia during war, then moving at least 10 times since, Jasko uses his art and fashion to entice people to look beyond borderlines and acknowlege their common threads- literally and figuratively. Just one look at his latest series, titled FUTURE TO THE BACK, and it's no wonder this artists's bold positive designs has been worn by the likes of border bending M.I.A. and Santigold.
Self Portrait of Artist and his cousin (and best friend in through war and all).
FUTURE TO THE BACK turns Eurocentric ideas of "ethnic art" on its head. The transcultural materials used are almost secondary to the striking personality of each individual figure. To come up with his creations, Jasko first treasure hunts everywhere from flea markets to that fabric store you never notice on the bus route. Collecting pieces that have the most story behind them, Jasko then remixes the pieces at will until his figure makes itself known. Often calling upon the strength and spirit of his ancestors to guide him, Jasko successfully communicates the emotional impact that kindred inspired characters carry, while maintaining an abstract global identity that can't be pinned down- thus allowing a multitude of audiences to find their own way to relate.

Portrait of grandmother made in collaboration with wife.
The closing party for "FUTURE TO THE BACK" is May 9th at 1114 Folsom St., SF (Gallerie Terroire). Show up, make conversation, and let the art guide you towards unity.
>> RSVP HERE 
FUTURE TO THE BACK
Closing party May 9th @ Gallerie Terroire 1114 Folsom – https://www.facebook.com/events/1098459970170692/
Jasko Begovic – http://jaskobegovic.com