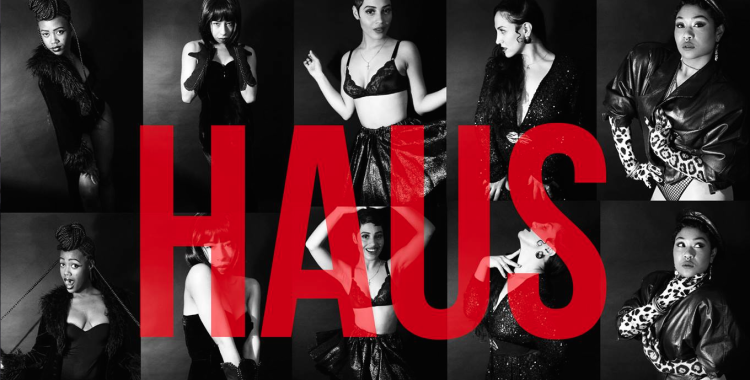 What happens when five of the most interesting dancers in NYC come together? HAUS OF SPICE of course! Together we are throwing a women's mini vogue ball at the Brooklyn Museum this Saturday where you can watch these dancers give their all across a variety of categories for a panel of legendary judges. In anticipation of watching these lovelies slay, we asked each member of Haus of Spice about where their origins, passions, and specialties with regards to vogue culture. Get to know them and come support your favs at our Fantasy Ball this weekend!
Terry Lovette aka Fulala Spice // @ledivinefeline
"My name is inspired by my affinity and connection to the Fula people of west and central africa. The fula moral code of patience , self control, discipline and courage amongst other things is a code I live by. The woman's traditional hair style has also become a style signature of mine."
Specialty: Women's Performance, Runway
Origins: My great uncle Bernard Lias was an accomplished modern dancer and worked closely with Alvin Ailey , Judith Jameson and Geoffrey Holder. Before he passed he and Martin Sneric joined forces to train  models signed with Elite Model management. His legacy has influenced my artistic interests and choices. Exploring Horton dance and Runway led me to meet so many amazing performers. One thing led to another and I was at a house party witnessing vogue for the first time. At some point I was pushed out into the center of the circle and I did we came naturally to me. That's how and when I learned I was what they call Soft and Cunt.
What you love: The vogue and ballroom culture is one of the last remaining underground world's in New York city. It's so interesting to me how indigenous it is. House's are the equivalent of tribes. House Mother's and Father's are like Queen Mother's and Chiefs and the entire village of sisters and brothers is run by a hierarchy of elders. In the new millennium , vogue/ ballroom scene is the last indigenous connection I have.
Fav Vogue Song: What you want when you wanna serve a bitch! by Kevin Jz Prodigy
Akira-Adel​ aka Ladii Spice // @akiraadel

​"Vogue for me is the fiercest dance form​ there is in my opinion. I love the grace, the movement, the shapes, the execution, the expression and the utter boldness it presents in form."
Specialty: Face​: I serve it well. Runway​: ​I'm known to have the fiercest & noteworthy strut from walking in underground fashion shows and just doing my daily in the streets of NYC.
Origins: Leyomi Mizrahi & Lunden Carroll. I was obsessed with watching Leyomi death drop off of tables​. Her coordination​/combinations​ & back bends are ​SICK. Back in college Lunden would share ballroom category vids (via YouTube of course) with me and I fell in love​. I finally found a scene where my "Sassy" bka "CUNT" would be adored & truly accepted.
What you love: What I love about ballroom culture is the inspirational bonds created within the houses. For an only child like myself it gives me the opportunity to have sisters & brothers that like ​& have the same ​interests as me! Glamour, style, creativity​, music & cultural substance.​
Favorite vogue song: Bitch You'll Gag – Jay Pendarvis ​
Kia Labeija aka Mother Shady Spice // @Goodnight_Kia

"I am a visual story teller. I use the mediums of Photography & Vogue to communicate."
Specialty: Performance. The voguing ballerina, precision, lines and grace. Pop Dip Jr, a name given to me by Icon and Overall Father of the House of Labeija, Derrick Pop Dip. My style is a tribute to the Old Way — The Only Way — with a generous blend of Vogue Fem and New Way.
Origins: I was introduced to Ballroom Culture via my Gay Mother. We met during the days I worked at Webster Hall, and we instantly clicked. She put me in my first house several years ago. I became a club kid, a nightlife dweller, and a downtown voguing Princess before I set foot in the Ballroom. I still consider myself so, however you will catch me at the Major Balls enjoying time spent with my house, carrying on the runway and carrying off with Grand Prize.
What you love: Community, and the space to be who ever it is you desire.
Fav Vogue Song: I love the classics of course, Love Hangover and Love is the Message.
Sade Adona aka Voodoo Spice

"I am a practitioner of urban and traditional diasporic culture. I speak the story of the ancients and connect them through today's urban wavelengths. I am a dancer, singer first, I use performance art to connect the story of our past present and future."
Specialty: face Hunny face
Origins: My grandmother was the disco queen. growing up she would tell us stories of "how she used to do when she was our age" she's play all these old school songs in the house and we'd dance with her. She had wigs, and feather boas, and leather and down!! Guess you can say I wanted to be like her!
Why you love vogue: Freedom to express yourself. When I watch people vogue I feel like they're flying.
Fav vogue song: I'm a big classics girl too (thanks to grandma) Love Thang" – First Choice 
Shireen Rahimi aka Motha Pishi Spice // @EclecticOther

Arts Educator & Performing Artist
Specialty: Woman's Performance
Origins: It was 2010 in San Francisco, during the time when hip-hop choreo went extra mainstream and everyone started to look the same. The choreo world went completely left-field after ABDC aired and it was around 2010 when I and fell in love with house music and discovered club-dance culture. I took Jocquese Whitfield aka Sir Joq's Vogue & Tone class at Dance Mission and 2 years later moved to NYC. The rest is history…
Why you love it: I was never inspired to tell my story until I started voguing in the ballroom scene. I was never confident in my style until members of the ballroom community continuously reminded me that MY vogue represents MY journey and MY story. Its not about tricks, flips and dips. Its about freedom of expression and self-identity.
Fav vogue song: MikeQ – Elevator Crash 
Come watch this beautiful family of dancers compete in our mini-ball complete with Tigga Calore on the beats and Omar Mizrahi as MC of the evening. Hint: There will be some legendary judges!
Create your own invite with Haus of Spice here: http://browntourage.com/bkmuseum
Photos are not our own. Provided by dancers and StyleLikeU.