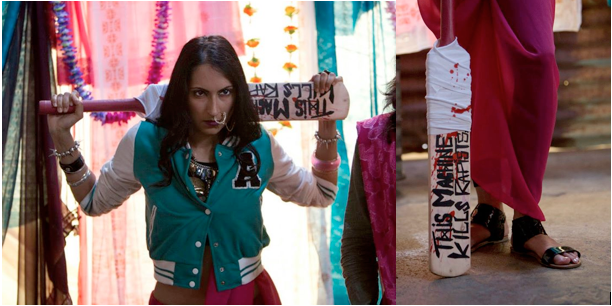 When I first found out about the film, The Pink Sorrys, I read up on their recent kickstarter campaign and got really excited about all the things they promised for the film: "an acid punk Bollywood musical about a group of women taking hyper-violent vigilante justice against rapists in India." As far as blood-and-gore movies go, it was neat to see a film in the blood-and-gore type genre that was produced by and starring brown women as heroes rather than victims— also the idea that an "acid punk Bollywood musical" even existed was exhilarating enough! (and, if it existed, why haven't I seen it yet?!)
Watching the sneak peak last week, this project really did deliver what it promised.  The story begins with a woman being taken and raped by a group of men during a dance struggle.  It then cuts to the group of men hanging out and chatting about social media and the validity of food porn.  When the men realize the victim is still alive, without addressing it directly, one of them strangles her already weak and ragged body.  Soon after, the Pink Sorrys—a gang of women who seek vigilante justice against rapists—come to reap revenge on the rapists and what ensues over the course of an epic dance battle will leave you both shocked and satisfied that justice was fittingly served.
The movie's Bollywood-pulp cinematography, modern dialogue about Instagram, Bollywood choreography/numbers, and, my favorite, a violent cricket bat with the words "This machine kills rapists" that is used to execute justice on the rapists in the story, all lend itself to a movie that effectively melds the aesthetics of the Golden Age of Bollywood with a story that could only be told today.
I watched the film in an intimate studio space and was attended by the cast, crew, close friends, and cocktails where guests received themed goodies including marble magnets from old Indian movies and Indian sweets. Afterwards, Tülips —a "female fronted DIY noise-pop riotgaze" band from LA who did the amazing soundtrack to the film performed a few of their songs about rape and police brutality while donning clothes from the movie.
Browntourage got to have some webcam-facetime-girltime-director's-cut-bonus-edition style livingroom conversation with Director Anam Saeed and lead vocalist Taleen Kali of TÜLIPS about women in film, sexual violence, and creative motivation for social causes. Peep the video and scroll down for photos from the event!
-> Watch the Pink Sorrys Teaser Trailer!
their website
, watch
their documentary
, or read their
members' Vice interviews
and if you're feeling extra generous-
donate
!
Jasmine Roashan – #culturalmovements #sociopoliticalmovements #womynofcolor #riotgrrrl #representationofgirlsinmedia #zines #publichealth #waterquality @youngmoneyjazzmoney