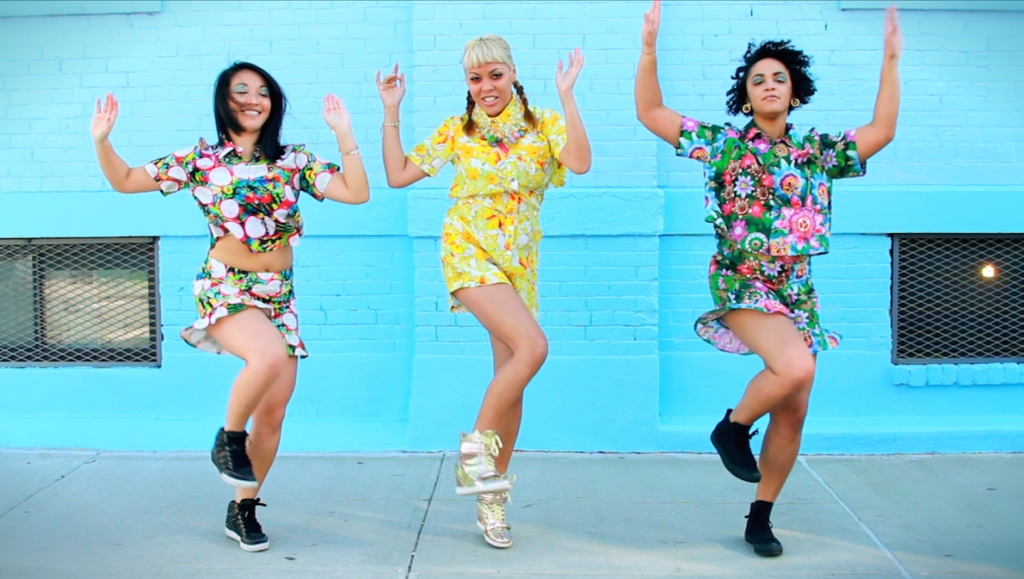 What happens when an artist trio of musician, fashion stylist and videographer combine New York energy and nostalgia for the tropics? Cue Tambores- a music video chock-full of delectable looks and irresistable hooks to shake your skirt to. Brooklyn-based videographer Shruti Parekh directed what she describes as "an ode to the beauty of cross-cultural exchange and the spirit of warmer climates" in collaboration with Brazil-raised Carioca bass musician Zuzuka Poderosa and fashion designer Sheena Sood of abacaxi nyc. Poderosa's song, "Tambores", means "drums" in Portuguese, and is juxtaposed with designer Sheena Sood's abacaxi line. Recently placed in the CW's "Jane the Virgin", the song is an explosion of dance brilliance that seamlessly works with Sood's urban-island aesthetic. Get your watch on!
This video inspires me to follow gut instinct–  The project came about organically, with Parekh's intuition that her friends Zuzuka Poderosa and Sheena Sood needed to meet. She asked if they all wanted to collaborate on something that reflected their unique interests and talents while bringing the colors of the tropics to the world of New York in summertime.
For artistic direction, Parekh draws from her appreciation for a culture's strong character and aesthetic. She says, "we are all inspired by our backgrounds and style– by striking, inspiring images that draw on culture and heritage. Sheena and I love Hassan Hajjaj's work we saw at a recent exhibition, and before making this video I watched tons of M.I.A. videos."
Brooklyn serves as a perfect canvas for this project, being known for its concentration of multiple cultures. "Brooklyn is full of cross-cultural exchange; it's been this way for a very long time," says Parekh.  "For us, we are all artists looking for people to work with and people we consider likeminded kinfolk. It's somehow so easy to do that here. It's incredibly dense and full of people who come from rich cultures and constant exchange happening."
Parekh emphasizes the influence of a culture's distinct taste on her aesthetic. Her own Indian background shows in the adornments on the performers in the video in the form of clothing and jewelry. Parekh explains, "A lot of Sheena's clothes use Indian fabrics and adornments. There is definitely a mix of Indian-Brazilian culture happening there. Even in the dance styles, the two dancers come from different backgrounds. Grace has a Modern and Contemporary style, while Michele has a West-African, Brazilian, Afro-diasporic focus. I think there's a lot of mixture happening in a lot of senses." The largely improvised choreography reflects the simplicity and freedom of summertime celebrations.
When asked about her favorite part of the process, Shruti says, "it was fulfilling to see how successful of a collaboration this was–I could tell because it was enjoyable the whole time." From start to finish, this passion project was developed and executed by trusting instinct, embracing distinct aesthetics and celebrating one's self.
>> Listen to Zuzuka Poderosa (@zuzukapoderosa)

>> Wear abacaxi ny (@abacaxinyc)
>> Watch Shruti Parekh  (@yungsaffron)
>> Download Tambores mp3 (iTunes)
by Joan Lee. Joan is interested in poetry, fine arts and fashion. She currently works and lives in NYC.